CEO Confident on Future Business in China
By Yiran Dai | China Daily Global | Updated: 2019-12-14 02:10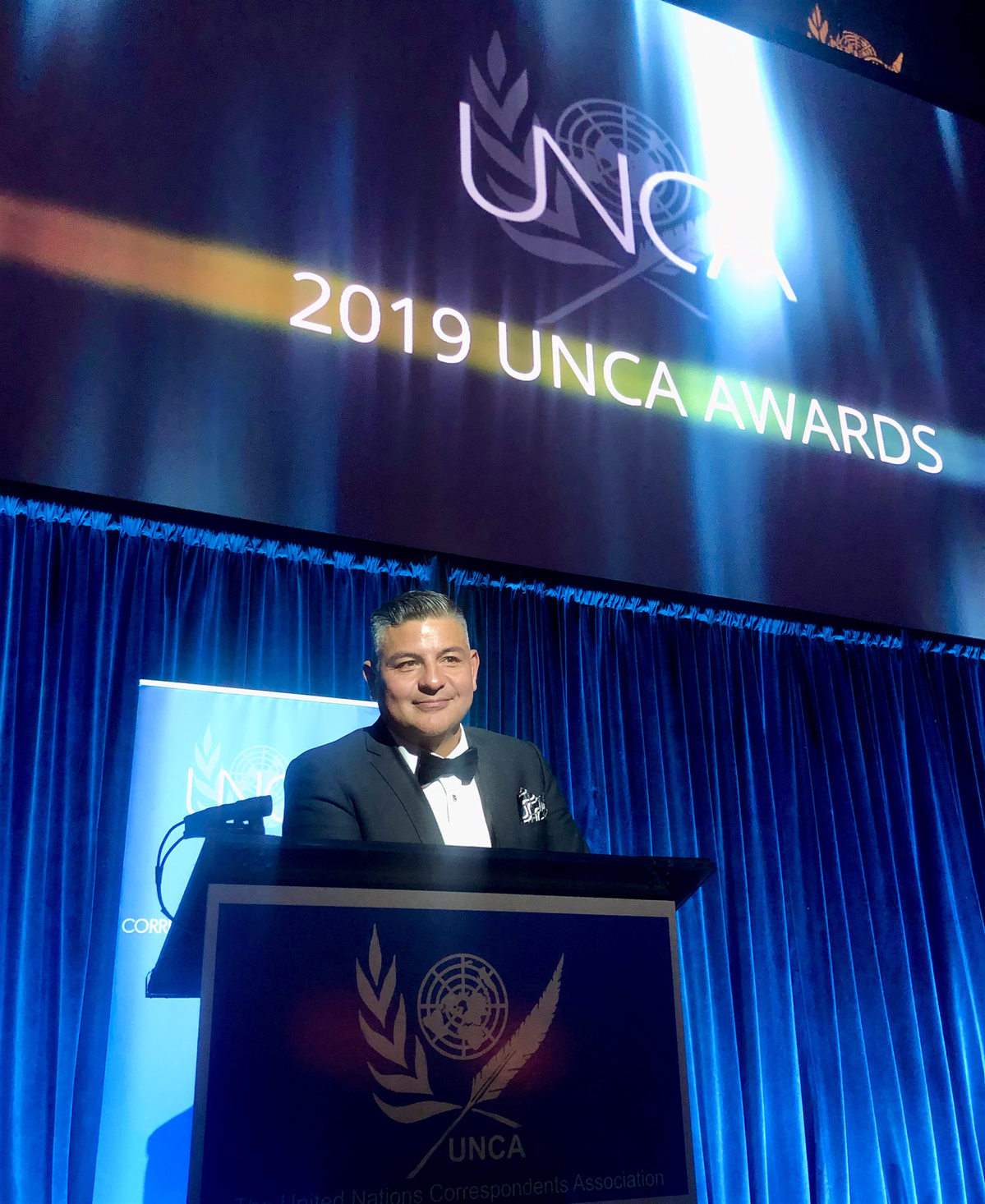 The CEO of Future Science Holdings, Inc. (OTCMKTS: FUTS) recognizes that social responsibility is critical while pursuing business opportunities in the global markets, especially those in China.
"We applaud China for developing and supporting such initiatives. Secondly, we recognize the enormous potential in its resources, industries and consumer-base" said Luis Rodriguez, chief executive of the Nevada-based company, whose shares are publicly traded. "Tapping into these opportunites positions FUTS with a competitive advantage in this complex global market."
Rodriguez attended the United Nations Correspondents Association annual awards gala in Manhattan on Friday.
"Right now, we are in discussions with different companies, one being in the natural mineral sector in China," Rodriguez said.
The company's website says that "with our cross-border expertise in China and South East Asian markets, FUTS is developing relationships to support the execution of our business plan. China's industry and investors are always looking at new ways to tap into the capital markets, and FUTS remains steadfast in our dedication towards helping to facilitate this process."
Rodriguez said FUTS is engaged in market intelligence to identify companies that synergistically support each other and FUTS' business plan. This ecosystem of companies will utilize technology and blockchain to create and promote efficiencies in their operations
"Technology is going to be the backbone of how we do business," according to Rodriguez.
"In our process of identifying companies for acquisition, we have to have the future in mind," he said. "If you don't investigate and incorporate technology into your business model, your opportunities of success diminishes. We look to what's going to happen, not one year, but five to 10 years."
Rodriguez said he was inspired by Jack Ma, co-founder and former executive chairman of Alibaba Group Holding Ltd.
"What he did is create unity with people and industries, developing the biggest distribution model through Alibaba," said Rodriguez. "I am amazed by him. He was able to look at the future. That's exactly what Future Science Holdings is expected to do."
The company plans to use diversification to benefit from global economic opportunities and expansion across multiple markets, including the commercial and tech sectors. The company focuses on working with industries such as natural minerals, logistics, e-commerce and social media.
Rodriguez's company is looking to harness the power of referral marketing and social media by empowering entrepreneurs to market products and services worldwide.
Rodriguez also shared his views on how businesses should connect with society and the government.
"We have to invest in society. If you don't contribute to your society, you are disconnected from it," Rodriguez said. "There are other businesses like us that are here (at the awards gala). We want to support them. We are here to connect with people who think alike."
Rodriguez also said his company was not deterred by the ongoing trade dispute between the US and China. Instead, he sees it as an opportunity.
"I believe in investing in the Chinese market," he said. "In the end, it's going to be a win-win. If not now, it's in the future – Future Science."
Rodriguez was invited to the event by the Global CSR Foundation, a US-registered 501(c)(3) non-profit organization, dedicated to empowering corporations, organizations and individuals to participate in the United Nations' 2030 Agenda for Sustainable Development.
Sponsored by Global CSR Foundation.