House prices seeing more stabilization
By Wang Ying in Shanghai | China Daily | Updated: 2019-06-19 09:18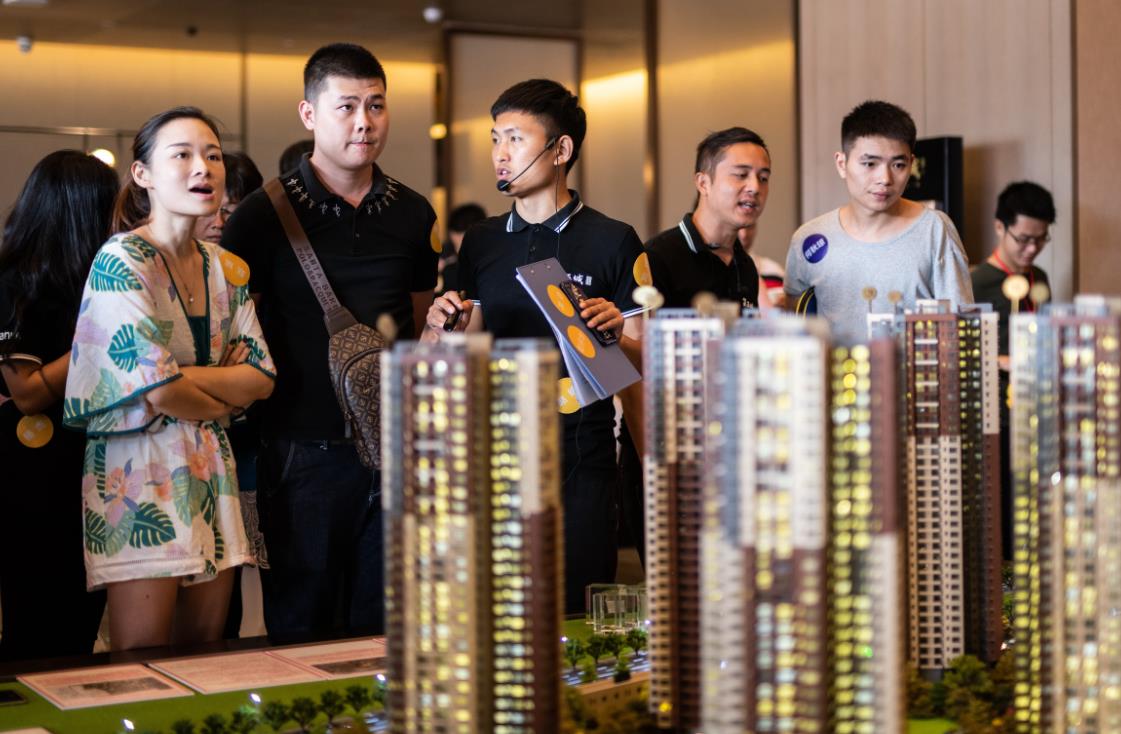 Local govts continue to implement respective tailored policy measures
Both new and pre-owned home prices in China's major cities continued to stabilize with slower growth in May, thanks to the tightening measures adopted by local governments and the long-term adjustment mechanism, said experts.
Local governments continued to implement respective tailored measures in accordance with their circumstances in May, which helped the real estate market remain stable, said Liu Jianwei, a senior statistician at the National Bureau of Statistics.
New home prices in four first-tier cities edged up 0.3 percent from the previous month on average, among which, Guangzhou took the lead with an 0.8 percent increase, followed by Beijing at 0.6 percent and Shenzhen at 0.4 percent, according to the bureau's data published on Tuesday. Shanghai was the only first-tier city to see a mild drop, 0.1 percent, from April.
In the pre-owned home market of the four cities, average prices increased by 0.1 percent from April. Shanghai saw a rise of 0.1 percent, while prices in Guangzhou declined 0.3 percent, and those in Beijing and Shenzhen remained unchanged, according to the bureau's figures.
Compared to last year, the four first-tier cities saw 4.7 percent and 0.3 percent growth in their new home and pre-owned home prices.
"Data collected in the used home market can better reflect the market situation compared to new home transactions that can easily be affected by policies," said Zhang Dawei, chief analyst at Centaline Property Agency Ltd.
According to Zhang, the prices of pre-owned homes in more than 10 cities declined month-on-month for eight consecutive months since last October.
Pre-owned home prices in the nation's 70 major cities increased at an average rate of 0.43 percent month-on-month in May, down from 0.53 percent in April.
"It is worth mentioning that Xi'an in Shaanxi province has led the growth of new home trading among all of the 70 cities in the past six months year-on-year, and Hohhot, capital of the Inner Mongolia autonomous region, has been reporting the highest growth in the used home market for seven months. More attention needs to be paid to the monitoring and control of prices in these two cities," said Yan Yuejin, director of Shanghai-based E-house China Research and Development Institution.
Last month, the Ministry of Housing and Urban-Rural Development had reportedly questioned the authorities in 12 cities including Xi'an, Xuzhou in Jiangsu province, Guiyang in Guizhou province, Haikou in Hainan province, and Kunming in Yunnan province over their overheated housing markets being driven by local measures, which resulted in a new round of local government regulations to check or prevent speculation, according to Lu Wenxi, a researcher with property consultancy Centaline Shanghai.
According to Centaline data, as many as 41 measures targeting the property market were announced in May, with a total of 205 real estate restriction policies issued in the first five months of this year, an increase of 30 percent compared to the same period in 2018.
"The Ministry of Housing and Urban-Rural Development has sounded the alarm for cities reporting home price surges in the past two months, asking local governments to closely monitor their measures taken to stabilize residential property prices," said Zhang.
The 31 second-tier cities monitored by the National Bureau of Statistics saw new homes prices rise 0.8 percent and used home prices increase by 0.5 percent from a month ago, and in year-on-year terms, these cities' new home prices rose 12.1 percent and those traded in the secondary market increased by 8.1 percent.
The 35 third-tier cities saw their new home prices increase by 0.8 percent and their used home prices rise 0.6 percent from the previous month, whilst compared with the same period of last year their new home prices rose 11.3 percent and pre-owned homes were up 8.2 percent.
"The continued property measures from local governments will ensure cities with higher home price growth to make changes," said Yan.
Amid market stabilization, land purchases, however, declined 33.2 percent in the first five months from last year, with average land prices dropping 3.5 percent year-on-year to 4,389 yuan ($634) per square meter, the first drop since 2012, according to the Shanghai-based CRIC (China Real Estate Information Corp) China.